Introduction
Are you a freelance professional looking to attract more freelance clients and grow your business? The key to success lies in positioning yourself as a sought-after expert in your field, so that clients come to you instead of you constantly chasing after them. In this article, we will explore ten effective strategies to help you get freelance clients to come to you. By implementing these tactics, you can establish a strong personal brand, showcase your expertise, and create a steady stream of inbound client inquiries.
TL; DR;
Build an Impressive Online Presence
Develop a Niche Expertise
Publish High-Quality Content
Leverage the Power of Social Proof
Network Strategically
Offer Free Resources or Consultations
Collaborate with Influencers
Optimize Your Online Profiles
Implement a Referral Program
Cultivate Client Relationships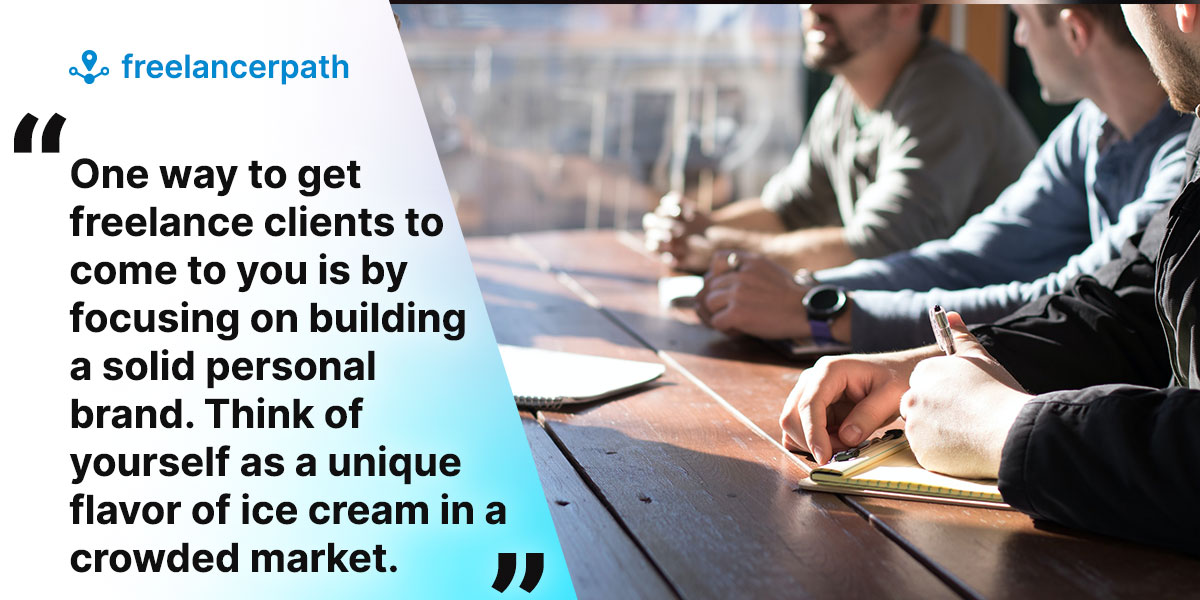 1. Build an Impressive Online Presence
In today's digital age, having a strong online presence is vital. Create a professional website that highlights your skills, showcases your portfolio, and includes client testimonials. Optimize your website for search engines, ensuring that it ranks well for relevant keywords in your industry. Additionally, actively maintain and engage with your professional social media profiles, sharing valuable content and interacting with potential clients. You can't get freelance clients without a strong personal brand online.
2. Develop a Niche Expertise
Differentiate yourself from the competition by developing a niche expertise. Instead of trying to be a jack of all trades, focus on a specific area where you excel. This allows you to position yourself as an authority in your niche, attracting clients who are specifically seeking your unique skills and knowledge.
3. Publish High-Quality Content
Establish yourself as an industry thought leader by consistently publishing high-quality content. Create a blog or contribute guest articles to reputable platforms in your field. Share valuable insights, tips, and advice that showcase your expertise. By providing valuable content, you will attract potential clients who recognize your knowledge and credibility.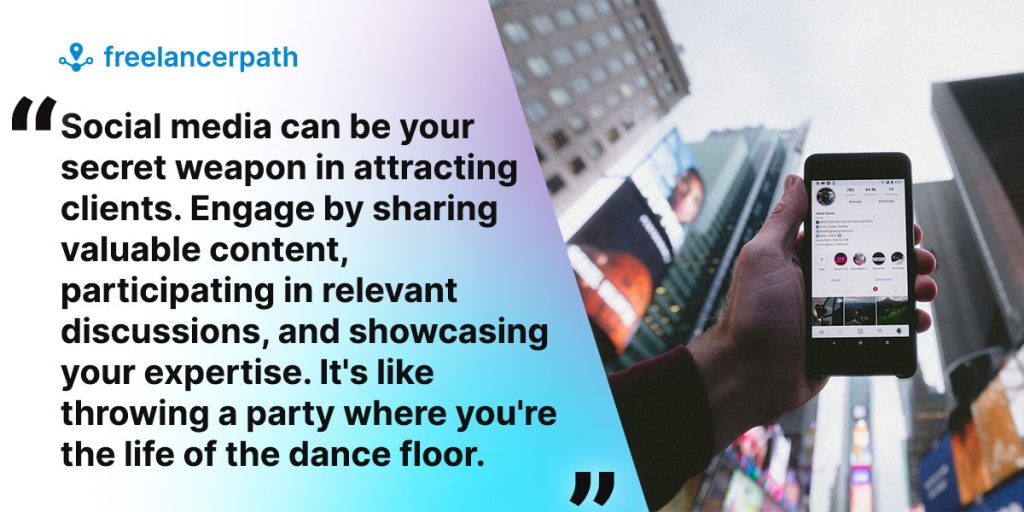 4. Leverage the Power of Social Proof
Utilize the power of social proof to build trust and credibility. Request testimonials from satisfied clients and display them prominently on your website and social media profiles. Additionally, ask clients if they would be willing to serve as references or provide case studies that demonstrate the results you've achieved for them. Positive reviews and real-life success stories can significantly influence potential clients' decision-making process.
5. Network Strategically
Networking plays a crucial role in expanding your client base. Attend industry events, conferences, and seminars to connect with potential clients and fellow professionals. Join relevant online communities and engage in meaningful conversations. Networking allows you to establish relationships, gain referrals, and position yourself as a go-to freelance professional in your industry.
6. Offer Free Resources or Consultations
Attract clients by offering free resources or consultations that provide value upfront. This could be an e-book, a checklist, or a free 30-minute consultation. By offering a taste of your expertise, you demonstrate your skills and build trust with potential clients. Many will eventually seek your paid services based on the value you've already provided.
7. Collaborate with Influencers
Collaborating with influencers in your industry can expose your freelance services to a wider audience. Identify influential individuals or companies that complement your expertise and propose mutually beneficial collaborations. This could involve guest blogging, co-creating content, or joint webinars. Leveraging their reach and credibility can significantly enhance your visibility and attract new clients.
8. Optimize Your Online Profiles
Ensure your online profiles are optimized for client discovery. Create compelling and keyword-rich profiles on freelance platforms, professional directories, and social media platforms relevant to your industry. Optimize your profiles to appear in relevant search results when potential clients are looking for freelancers with your skillset.
50+ Freelance Job Websites Categorized
9. Implement a Referral Program
Word-of-mouth recommendations are powerful. Encourage your existing freelance clients to refer you to their connections by implementing a referral program. Offer incentives such as discounts on future services or exclusive bonuses for successful referrals. This not only rewards your loyal clients but also expands your network and attracts new clients through trusted recommendations.
10. Cultivate Client Relationships
Lastly, focus on cultivating strong relationships with your existing clients. Provide exceptional service, exceed expectations, and maintain open lines of communication. Happy clients are more likely to refer you to others and become repeat clients themselves. By consistently delivering value and building lasting connections, you create a client base that not only returns but also brings new opportunities your way.
Conclusion
Attracting freelance clients doesn't have to be an uphill battle. By implementing these ten strategies, you can position yourself as an in-demand freelance professional and have clients coming to you. Building an impressive online presence, developing a niche expertise, publishing high-quality content, leveraging social proof, strategic networking, offering free resources, collaborating with influencers, optimizing online profiles, implementing a referral program, and cultivating client relationships are all essential steps towards becoming a highly sought-after freelance professional.
FAQs
Q: How long does it take for clients to start coming to me using these strategies?
A: The timeframe varies depending on several factors such as your industry, competition, and the effectiveness of your implementation. Be patient and consistent in your efforts, and you should start seeing results within a few months.
Q: Should I implement all ten strategies at once?
A: It's best to prioritize and focus on a few strategies initially, based on your specific goals and target audience. As you see progress, gradually incorporate additional strategies to diversify your client acquisition channels.
Q: Can these strategies be applied to any freelance profession?
A: Yes, these strategies are applicable to most freelance professions. However, it's important to tailor them to your specific industry and target audience for optimal results.
Q: How often should I publish content on my blog
A: Consistency is key. Aim to publish high-quality content on a regular basis, whether it's once a week or once a month. Find a schedule that works for you and stick to it.
Q: What if I'm not comfortable with networking or self-promotion?
A: Building relationships and promoting yourself can feel intimidating, but they are essential for attracting clients. Start by taking small steps, such as attending local industry events or joining online communities. Over time, you'll become more comfortable and confident in networking and self-promotion.
Quotes from Expert Freelancers
1. Emma Simmons – Content Marketing Specialist
"One way to get freelance clients to come to you is by focusing on building a solid personal brand. Think of yourself as a unique flavor of ice cream in a crowded market. Develop a distinctive voice, showcase your expertise, and let your personality shine through your content. Clients will be drawn to your authenticity and be more likely to seek your services."
2. Alex Reynolds – Web Designer
"Want freelance clients to flock to you like bees to honey? Make your website a magnet for potential clients. Optimize it for search engines by using relevant keywords, showcasing your portfolio with eye-catching visuals, and having clear calls-to-action. A well-designed and user-friendly website acts as a virtual storefront, leaving a lasting impression on visitors and enticing them to reach out to you."
3. Sarah Johnson – Social Media Expert
"Social media can be your secret weapon in attracting freelance clients. Engage with your target audience by sharing valuable content, participating in relevant discussions, and showcasing your expertise. It's like throwing a party where you're the life of the dance floor. The more you show up, share your knowledge, and build relationships, the more clients will want to join your party!"
4. Max Thompson – SEO Whisperer
"Want clients to find you effortlessly? Embrace the power of SEO. Just like a treasure map, optimize your website and content with relevant keywords, meta tags, and engaging descriptions. This helps search engines connect the dots and present your offerings to clients searching for exactly what you provide. It's like placing breadcrumbs that lead clients straight to your digital door!"
5. Lily Chen – Networking Ninja
"Networking is like a garden where you sow the seeds of relationships that blossom into client opportunities. Attend industry events, join online communities, and participate in conversations. Plant seeds by offering valuable insights, sharing your expertise, and genuinely connecting with others. As you nurture these relationships, you'll see them bear fruit with clients coming to you through referrals and word-of-mouth recommendations."
Please remember that each expert has their unique perspective and approach, so feel free to explore these tips and tricks to find what works best for you and your freelance journey. Happy freelancing!
Get your first client.
A complete step by step guide to get your first client as a freelancer from scratch.